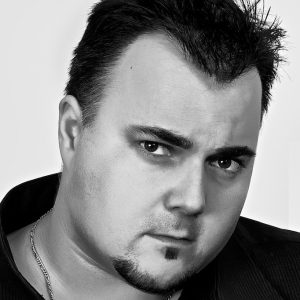 Andreaux (born February 12th, 1973 in Belfort, France) is a french Music Producer.
Andreaux has played a significant role in quite a lot of bands and artist's life in the past 29 years. His first band, Guillotine Chorus – although never made it to a record press – pioneered the electronic and synth-pop music scene in the early 90s with own compositions as well as covers from synth-pop bands like Depeche Mode. Guillotine Chorus was quite widely appreciated at that time, but was interrupted by high school and military service (obligatory at that time).
In the mid 90s, Andreaux started a new project, named The Raven together with keyboard player and producer Warez!. Guitar player and score composer PaGe and vocalist/rapper Johnny joined the band. Andreaux eventually left the band when they signed their first record contract with BMG. The band finally released its first album without Andreaux's participation, under a different name, went on for a second album, then split up.
Since then, Andreaux took part in different projects and produced music for other artists, signed official covers as well as bootleg remixes of well-known names like Depeche Mode, Eurhythmics, Florence and the Machine, Ellie Goulding, Katy Perry, Mylène Farmer, Ace Of Base, David Guetta, Yazoo, The Jackson 5, etc. Andreaux was also featured in DJ sets in the UK and in the US with tracks like Megablast and covers like World In My Eyes (Sightless Mix), Personal Jesus (Metamorphosis Mix) and Enjoy The Silence (Painful Words Mix).